Analog Camera (AHD,TVI,CVI)
An analog surveillance camera begins with a CCD sensor and then digitizes the image for processing. But before it can transmit the video, it needs to convert it back to analog so it can be received by an analog device, such as a video monitor or recorder.

IP Camera (Digital)
IP cameras are typically equipped with an embedded web server and can be accessed and controlled over any IP network such as a WAN, LAN, Intranet, or Internet. By utilizing a standard web browser or client software users can view an IP camera's video output from any local or remote location.

Accessories for CCTV System
Browse through our extensive catalog of CCTV consoles, racks & desks, featuring products from CCTV consoles, racks & desks manufacturers and suppliers. You will find detailed product profiles and technical specifications including Fiber Options.
---
Frequently Asked Questions!
Analog VS. IP Cameras?
The CCTV industry is all abuzz with talk of an IP ("Internet Protocol") camera takeover. Yet reports of the death of analog cameras are premature. While some IP or 'network' cameras can potentially deliver high definition megapixel images, analog CCTV cameras continue to offer greater efficiency, lower cost and higher overall reliability.
Before deciding on IP cameras versus analog, it is advisable to first understand how the technologies work. The differences in both camera technologies and method of video transmission are critical to developing a well planned CCTV solution. It should be noted as manufacturers of both IP and analog cameras, DVRs and NVRs, I have no bias. While the opinions may not be "popular" they are just a statement of facts. It is not a matter of either or, rather use each camera appropriately as needed. They both have their place.

Deploy new stores with just an internet connection: no installation, no specific hardware required. It works with any iPad, Tablet PC, laptop or industrial POS machine. While an internet connection is required to start the Point of Sale, it will stay operational even after a complete disconnection.
What is the Difference Between an Analog and an IP Camera?
The principle difference between analog and IP cameras is the method by which the video signal is transmitted and, ultimately, where the video is compressed, or 'encoded'.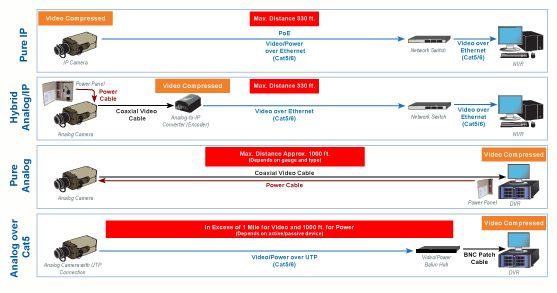 Which is Better? An IP Camera or an Analog Camera?
IP CAMERA
IP cameras excel in capturing high definition, megapixel images but have trouble with low lighting conditions. Dropped frames and video artifacts are commonly seen in IP CMOS cameras.
IP cameras are limited in encoding resources. As a result choices have to be made with respect to codec, frame rates and quality where the selection of one decreases quality of another.
Since the video is being compressed before monitoring, you can never have the highest quality or real time images. Encoding at the camera introduces latency, which becomes an issue when an operator needs to track something with a PTZ controller and overcorrects.
Analog Camera
Analog CCD cameras perform well across a variety of lighting conditions and manage motion well.Analog cameras do not have capabilities above the NTSC/PAL standards. As analog compresses the video in the DVR there are more hardware and software resources available to provide increased video quality and frame rate. Analog cameras transmit the video image to the DVR uncompressed where it can be viewed live with no latency pre-compression.